BASI Pilates course for Injuries and Pathologies in Marbella, Spain
THIS 3-DAY ADVANCED TRAINING CERTIFICATE PRESENTS A PHYSIOTHERAPEUTIC APPROACH TO WORKING WITH CLIENTS WHO HAVE INJURIES, PHYSICAL LIMITATIONS AND MOBILITY IMPAIRMENTS.
In the BASI Pilates course for Injuries and Pathologies specific injuries and pathologies are examined and students learn about the precautions and/or contraindications for these conditions, as well as other exercise options and modifications to the original BASI Pilates repertoire. Course participants will learn safe ways to work with clients who suffer some of the injuries and pathologies we encounter most often. A manual is included and participants receive a certificate upon completion of the course.
Dates:
31 march, 1, 2 April 2023.
Prices:
USD $900
USD $825 full audit (repeat entire course)
USD $275 1-day audit (repeat only 1 day)
Timetable:
Friday 2pm to 9pm (come already eaten and bring a snack for the break)
Saturday 9am to 9pm (bring food for the midday break)
Sunday 9am to 4pm (bring food for the midday break)
---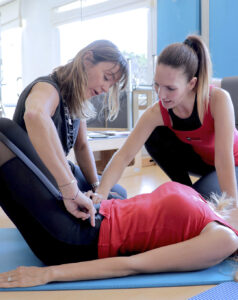 Other courses & workshops